Stone Arch Bridge open call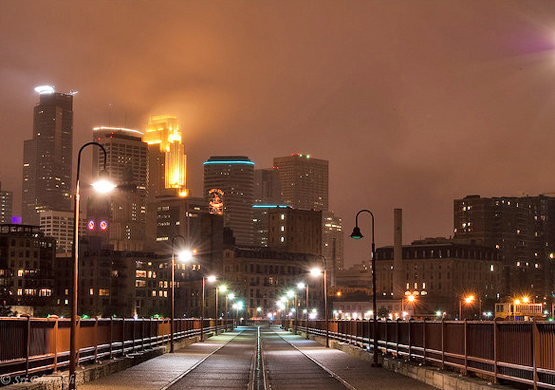 Northern Lights is accepting proposals for performances, projections, installations, and other events on and around the Stone Arch Bridge during Northern Spark, June 4-5, 2011.
Description
This call is for one project. The Stone Arch Bridge is a primary site and corridor for Northern Spark. It will be "home" to a number of project, including beneath a glowing ceiling veil of living light, Egg & Sperm Ride, and MURMUR. HOUSEBOAT and Nightmare will both pass by the Stone Arch Bridge, and it is visible from Modern Monoliths migrating. Each project proposal may only be submitted to one Northern Spark open call.
We are looking to commission a project that helps activate the site while being respectful of its location – it must remain open as a thoroughfare at all times. The project can be performative, light-based, participatory or any combination of creative and compelling activities, which last at least from dusk to dawn.
Resources
Northern Spark will provide the following to the selected project(s):
A $1,000 honorarium
Production advice
Permitting and insurance as reasonable, appropriate and possible
Free transportation to and from the site
Selection criteria
Strength of conceptual framework for proposed project
Feasibility
Compatibility of project with Northern Spark's proposed sites and modalities
Potential for public engagement and participation
Applicant's past experience and likelihood for success
Application materials
The application process is online. Applicants are required to submit:
Primary contact information
Proposal concept – (max 1 page, pdf)
Supporting materials, such as site diagrams, including technical specifications – (max 2 pages, pdf)
Documentation of work: title/medium/date/credits/description with links to no more than 10 images and 1 video of past, preferably related work – (max 1 page, pdf)
A budget that fits within the parameters of the grant and/or clearly identifies and confirms additional resources (max 1 page, pdf)
A brief bio and CV (max 2 pages for each primary participant, pdf)
Jury
This call will be juried by programmers associated with Northern Lights.
Application submission
Application deadline, 11:59 pm March 7, 2011
Post your submission here:
http://review.northern.lights.mn/ns11/author/submit.php
Selected project(s) will be announced by March 21, 2011.